.
.
.
.
.
.
.
.
NEWS!

DOLPHIN FRESCO - CONTEMPORARY CLASSIC
Dolphin Fresco is a fine example of Ancient Pompeian Fresco method, Early Mediterranean laconic imagery of design and Renaissance technique of painting. This original interpretation of The Classic Theme has been seamlessly integrated into contemporary setting by iLAdesigns.

Feature Article | View Pictures
---

DESIGN & FABRICATION - GOVERNORS BALL DECOR
Recently iLAdesigns has completed over 30.000 sq feet of hand painted
Trompe L'oel Decorations for
76th Annual Academy Awards® Governors Ball

Feature Article | View Pictures
---
"...TrueFresco.com is nothing short of amazing in its depth and breadth, and it's become a major forum - perhaps THE forum - on the subject..."
Mark W. Stone, Emmy Award Winning Producer WVIZ/PBS
---
Business without website is a... is a... is a... a "business" without website. Website is not a page with links to, it should be your Company's Real-World presence LINKED TO! No one will link to a "classified ad", no one, even a search engine will not! And this is when we come in! With the use of the latest methods and strategies and our own techniques (you found us - didn't you?) as well as JAVA, PHP, CGI, MySQL, etc. we will FORCE your site from being "a page with links to" to being - Your Company's Real-World presence LINKED TO!.
---
Websites and Website Add Ons designed by I LA Design Services
---
Contemporary Fresco Art Gazette delivers Art News and Updates published in Browser and PDA formats with dynamic Art Blogs on fresco painting, fine and decorative arts, sculpture, architecture and interior design. Gazette offers Free Art News Syndication through RSS and XML Art feeds.
---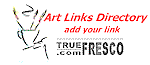 ---
---
I LA Design Services offers competitive pricing and although we are not "the cheapest kid in town" our experience and techniques allows us to achieve results faster and maintain our rates at 10-20% below the average market standard.
---
Payment Schedule:
1. Initial Deposit - 15% of the total cost of the project, due on contract signing.
2. Production Deposit - 50% of the total cost of the project, due when the design and/or scripting feature layout plan is approved.
3. Final Payment - balance, due when completed.
For your convenience we accept credit card payments online at our CLIENT CENTER

"He transformed a thirty-foot wall into a living display of beauty that will outlast most of the art and architecture of the Southwest. He is a creative genius and works with a wonderful team..."
A. B., Emmy Award Winning Documentary Producer (Best Public Affairs) ABTV